We currently have four adult screech owls in our care here at OBS.

Screech owl #1 was brought to us right away after he had been hit by a car. He had been found in the road alongside a screech owl that was deceased; most likely the two of them had been squabbling over territory. He had a compound fracture to his right wing that was open and bleeding. After getting the bleeding under control, we realized that the wound needed stitches, otherwise the exposed bone would not stay in place. One or two sutures did the trick and we were then able to wrap the wing. A wing "wrap" is basically a cast like you or I would have for a broken arm or leg. The wrap keeps the bones aligned and the wing stationary so that everything can heal. It is a tricky business, but if all goes well, the bird will be able to fly again.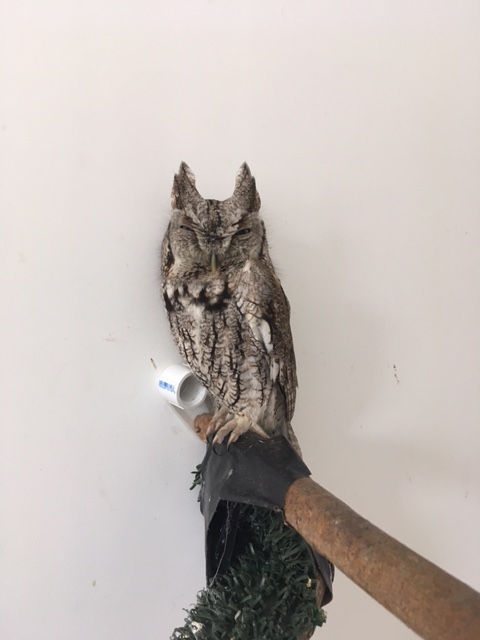 A screech owl will pull all of its feathers in close to the body, close its eyes almost all the way, and raise its ear tufts to make the best use of its camouflage.

It has been several weeks since we received this screech owl and he is doing well. The sutures were removed and the wing wrap taken off after a couple of weeks. So far he is flying better than we expected him to! It's not perfect, but we think he has a good chance of surviving in the wild again.
Screech owls #2 and 3 were transferred to us by Lake Erie Nature & Science Center. Collaborating with other rehabilitation facilities allows all of us to give the best care to the birds we receive. These two owls were both hit by vehicles. One suffered a wing injury and the other suffered head trauma. Lake Erie N&S Center provided the initial treatment for these birds and then transferred them to us because we have a larger outdoor space for them where we can make sure they are flying well and hunting.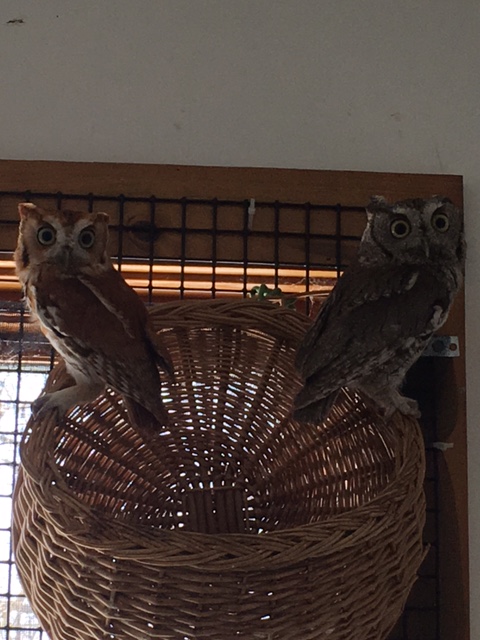 Screech owls come in two color phases: red and gray.

Screech owl #4 was also struck by a vehicle. He did not have any fractures, thankfully, but he seemed stunned. We treated him with an anti-inflammatory drug and he had perked up by the next morning. Of the four screech owls we have right now, he is the only red phase; the other three are all gray. He will also most likely have the quickest rehabilitation process of the four. We are planning to release him as soon as we get a decent break in the weather.

Even though all of these owls have been victims of car strikes, we are hopeful that all of them will be able to be released!